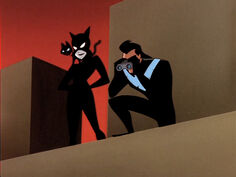 Plot
Nightwing makes his debut, and finds an unlikely ally in Catwoman in trying to expose a South American gun smuggling operation into Gotham City.
Cast

Kevin Conroy as Batman Bruce Wayne Adrienne Barbeau as Catwoman/Selina Kyle Loren Lester as Nightwing/Dick Grayson Tara Charendoff as Batgirl/Barbara Gordon Sal Lopez as Enrique El Gancho Joe Lala as Gun Runner #1 Steve McGowan as Gun Runner #2 Michael David Donovan as Gun Runner #3
Ad blocker interference detected!
Wikia is a free-to-use site that makes money from advertising. We have a modified experience for viewers using ad blockers

Wikia is not accessible if you've made further modifications. Remove the custom ad blocker rule(s) and the page will load as expected.