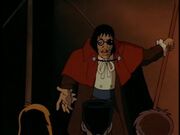 The Underdwellers is the sixth episode of Season 1 of Batman : The Animated Series. The main antagonist of this episode is Sewer King. This episode originally aired on October 21st, 1992.
Plot :
Batman encounters mysterious 'wee green people,' who have been committing petty crimes. He saves one and soon learns the boy belongs to a gang of forgotten runaways who live deep within the Gotham sewer system. Their leader, the crazed Sewer King, forces the children to steal food and supplies for him.
Cast:
Batman / Bruce Wayne - Kevin Conroy
Alfred Pennyworth - Efrem Zimbalist Jr.
Matron - Victoria Carroll
Sewer King - Michael Pataki