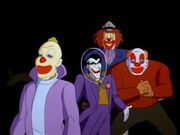 The Last Laugh is the fourth episode of Season 1 of Batman : The Animated Series. The main antagonists are The Joker, His Goons, & Captain Clown. The episode originally aried September 22nd, 1992.
Plot:
The Joker employs a lethal mind altering laughing gas to transform the citizens of Gotham into total fools. If Batman doesn't stop the Clown Prince of crime, everyone will soon go totally mad, including his friend and butler, Alfred Pennyworth.
Cast:
Batman / Bruce Wayne - Kevin Conroy
Driver - Bob Hastings
Alfred Pennyworth - Efrem Zimbalist Jr.
The Joker - Mark Hamill
Summer Gleeson - Mari Devon
Jest - Pat Farley
Computer - Richard Moll