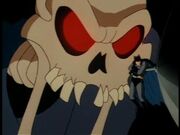 Nothing To Fear is the third episode of Season 1 of Batman : The Animated Series. The main antagonist in this episode is The Scarecrow (Dr. Jonathan Crane) who makes his debut. This episode originally aired on September 15th, 1992.
Plot:
The Scarecrow (Dr. Jonathan Crane) is spreading fear gas and wreaking havoc on Gotham State University. Under the influence of the fear gas, Batman must fight the Scarecrow and his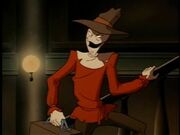 worst fear (his father being ashamed of him) at the same time.
Cast:
Batman / Bruce Wayne - Kevin Conroy
Detective Harvey Bullock - Robert Costanzo
Commissioner James Gordon - Bob Hastings
Alfred Pennyworth - Clive Revill
Summer Gleeson - Mari Devon
Dr. Long - Kevin McCarthy
Computer - Richard Moll
Scarecrow (Batman: The Animated Series) / Dr. Jonathan Crane - Henry Polic II
Ad blocker interference detected!
Wikia is a free-to-use site that makes money from advertising. We have a modified experience for viewers using ad blockers

Wikia is not accessible if you've made further modifications. Remove the custom ad blocker rule(s) and the page will load as expected.