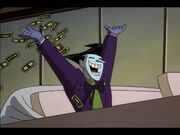 Joker's Millions
is the seventh episode of Season 1 of
The New Batman Adventures.
The main antagonist in this episode is The Joker. It originally aired February 21st, 1998.
Plot:
Joker's broke. But he inherits money from a mob boss, and plans to distribute it free to Gotham to gain positive influence, until he finds out his millions don't quite add up to his expectations.
Cast:
Batman / Bruce Wayne - Kevin Conroy
Batgirl - Tara Strong
Nightwing - Loren Lester
The Joker - Mark Hamill
Harley Quinn - Arleen Sorkin
Penguin - Paul Williams
Poison Ivy - Diane Pershing
Jack Ryder - Jeff Glen Bennett
King Barlowe - Allan Rich
Ernie - Sam McMurray
Fake Harley - Maggie Wheeler
Joker's Lawyer - John Garry
Ad blocker interference detected!
Wikia is a free-to-use site that makes money from advertising. We have a modified experience for viewers using ad blockers

Wikia is not accessible if you've made further modifications. Remove the custom ad blocker rule(s) and the page will load as expected.