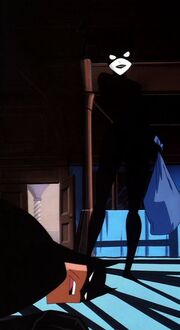 Plot
After stealing a gold statuette of a cat, Catwoman finds herself tracked and eventually caught by a cat cult whose main plan is to use Batman as a tasty bat treat to their mascot -- a prowling, slobbering, mean-to-the-bone tiger.
Cast

Kevin Conroy as Batman/Bruce Wayne Bob Hastings as Commissioner Gordon Adrienne Barbeau as Catwoman/Selina Kyle Scott Cleverdon as Thomas Blake Jim Piddock as Martin Tasia Valenza as Female Cultist
Ad blocker interference detected!
Wikia is a free-to-use site that makes money from advertising. We have a modified experience for viewers using ad blockers

Wikia is not accessible if you've made further modifications. Remove the custom ad blocker rule(s) and the page will load as expected.